Cats
These are my cats!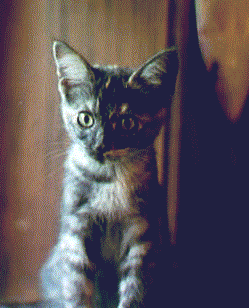 This is Mystical
We call her Myste or Mystical. She loves Pepsi and ice tea....

On those rough mornings she is known to sip coffee. MINE!!

My little Kitchen witch kitty.
She seems to be around when I am in the kitchen. Not in the way!
Her favorite place is on top of my pantry.
If there are things in her way she will push them off.
But she seems to know when I am doing magick too..
I got her from the pound. She sat up so pretty kept giving me the I love you face (blinking at me)... I had to get her!! Of course!! She was free.
She is a lovable kitten that doesn't take nothing from the bigger cats or even the dog!!
She loves surfing the web too.

Sometimes she like to write things too.
When I am in chat....


Dude.
He is the biggest cat in the house.
He is over 20 pounds. But don't worry about the kitten Mystical she buddys with him! He babys her....
He can be very nasty when he wants to be but most of the time he is a lovable guy.
Just don't try to pet his belly!
You could get attacked with all his paws!
He enjoys watching TV with us - but he keeps his eyes closed!
He is the perfect Goth cat, he sits with his fangs and claws out!
But he has the quietest voice.

He also joins me when I meditate.
He puts his paw on my leg and purrs with me. I am in a circle that meditates every Saturday and he reminds when it's time!!! Took me a while to figure this out!!
But I think he really loves that!
My dog
Crystal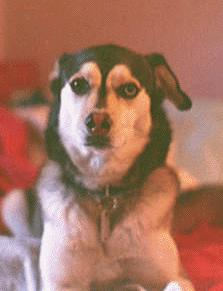 Crystal and I have been threw a ton together... divorce includes a male dog, so she lost her boyfriend with the deal.
She is so lovable and sometimes protective. But then again I wouldn't mess with her.

Home

Food Magick

Pantry Magick


Recipes

Crafts

My Familiars

Beauty Recipes

Links

Web Rings