Bath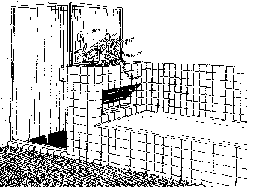 Milk Bath
1 cup powdered milk

Add powder milk to bath.
Can also add dried herbs if wanted
Oatmeal Bath
Oatmeal
Cheesecloth or muslin

Oatmeal can be made to fine powder in blender if wanted
Cut a piece of material about 4 inches X 4 inches
Place oatmeal in center. Tie all edges together with waterproof cord.

Place in bath
Herb Bath
Your choice of herbs
Cheesecloth or muslin

Same as for oatmeal bath. Place the herb in the middle of cloth
Whatever herb you have fresh or dried
Rose Bath
It is said that Queens took baths in rose petals....
But todays Queens have to clean their own bathtub
So a rose bath can easily be done with rose water
Add a cup or so of Rose water to bath
Find rose water at health store or liquor store
Yogurt Body Treatent
2 cups plain Yorgurt
1 tablespoon Wheatgerm
1 tablespoon Light oil
1 tablespoon honey

Mix all above together.
Slather all over body and hair
Rinse with as cool as you can stand

Refreshing Leg Gel
1/2 cup of Aloe Vera Gel
1 1/2 teaspoon Cornstarch
1 Tablespoon Witch Hazel
3-4 drops Peppermint

Aloe Vera can be found in the health and beauty aids department by the sun tanning lotions.
Buy the 100% pure Aloe Vera Gel.
Combine aloe Vera, cornstarch adn witch hazel together Warm until thick like honey.
In a microwave stie every 30 seconds for 1 to 2 minutes on high
Or use a double boiler. Cool Completely
Add peppermint oil or extract.
Store in airtight container. Use on legs and feet

Eye Make-up Remover
1 Tablespoon canala oil
1 Tablespoon castor oil
1 Tablespoon olive oil
1 Tablespoon avocado oil
Mix together in a bottle by shaking gently.
Apply to eye with coton ball. Dicard after 5 days.
Cocoa Eye Butter Eye Cream
2 Tablespoon petroleum jelly
2 Tablespoon cocoa butter
2 Tablespoons coconut oil

Mix all items in glass bowl.
Heat in microwave or a water bath (place bowl in pan with 1 or 2 inches of water and heat)
Pour into clean jar and cool completely.
Use every night around your eyes.

Love Massage Oil
1/2 cup light oil (canola oil will do)
1/2 teaspoon ground cinnamon
1/2 teaspoon vanilla extract

Mix together
Let the mixture sit for hours
Pour thought a coffe filter or cheesecloth
Can add nutmeg with the cinnamin

Recipes came from:
_Natural Beauty at Home_ Janice Cox
_Herbal Body Book_ Jeanne Rose
_Blended Beauty_ Philip B.


Health And Beauty Page